milk, World Bank
Why does the World Bank see a growth point for milk in Ukraine?

Ukraine has every chance to take a leading position in the world milk market. Against the background of growing markets and logistical advantages, Ukraine has another significant advantage — relatively low cost of milk production, but without the volume of dairy products, its quality and stability of supply access to export markets — is not possible.
According to analytical studies of the International Finance Corporation (IFC) presented at the General Meeting of the Association of Milk Producers, one of the key prerequisites for Ukraine's success in global markets is the cost of milk production, namely its competitive level compared to other countries.
Analyzing Ukrainian dairy farms, their management and production practices, IFC sees significant potential in reducing the cost of milk by increasing the yield of forage crops and reducing the cost of their cultivation.
The goal is to set the cost — 20 cents / kg. This is quite an achievable level for Ukraine. Having reached and maintained this level, Ukrainian products will gain a lasting competitive advantage in the global market.
«This should not be an accidental figure, but a really stable level of cost achieved through improved technology, production and management processes. That is, increasing the internal efficiency of the company, «says Anna Klymenko.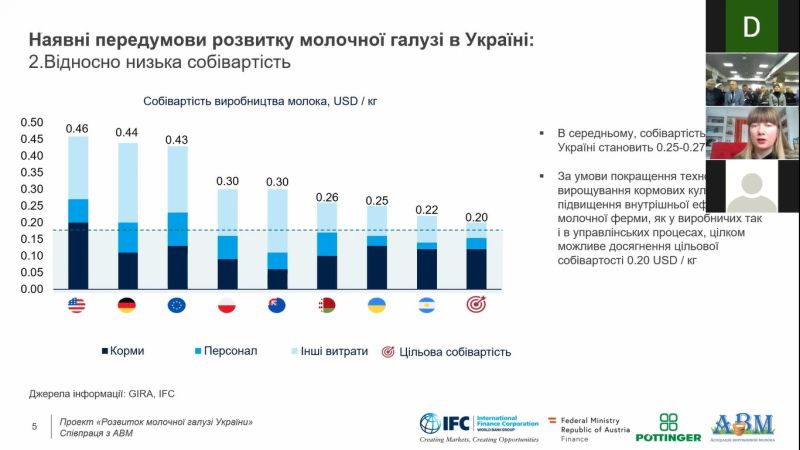 Some dairy farms and processors in Ukraine show quite high profitability, but these isolated cases are not enough for Ukraine to take a worthy place in the global market. Export markets require volumes of dairy products, their quality and stability of supply, which can be achieved by consolidating the efforts of individual players and creating a vertically integrated company.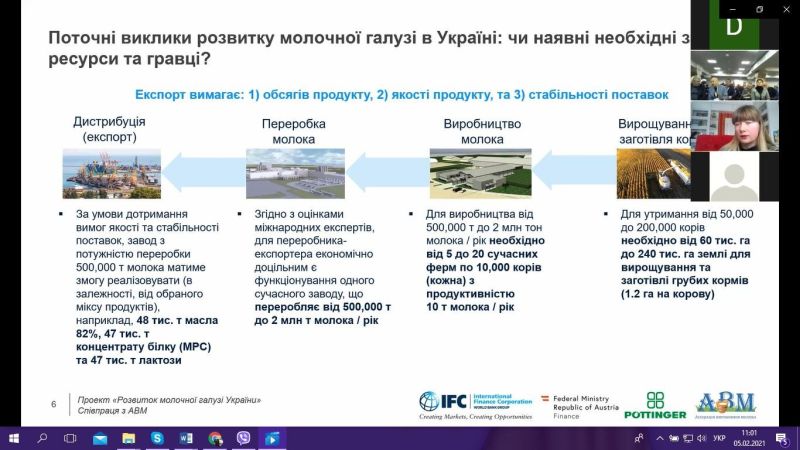 «According to international experts, for a processor who would like to profitably export their products, it is economically feasible to have one modern plant with a processing capacity of at least 500,000 tons of milk per year. And such a plant does not yet exist in Ukraine. And for the production of these 500,000 tons of milk, if we take as a basis the American model of large farms, 5 modern dairy farms of 10,000 cows each with a capacity of 10 tons of milk per cow per year. Which in turn requires about 60 thousand hectares of land for growing and harvesting roughage. From the point of view of global markets, these are small volumes, but this supply chain does not yet exist in Ukraine. Therefore, since the beginning of the Dairy Development Project in Ukraine, IFC has been looking for partners to create such a chain, «said Anna Klymenko.
With such prospects, we can safely look more broadly at the dairy sector of Ukraine and its role in the global dairy market.
All these issues will be considered during the International Dairy Congress on March 30−31.
---
To register, follow the link: dairycongress.org/registration/2021/ukr
Or call: Oksana Molchanova +380 674 705 563, 4 744 46 756
---
For reference:
The International Finance Corporation (IFC), with the support of the Austrian Ministry of Finance, is implementing a five-year project «Development of the Dairy Industry of Ukraine.» Within the framework of this project, the International Finance Corporation (IFC) together with the Association of Milk Producers implements a program to increase the efficiency of production and management practices of dairy farms by replicating through the Consultancy Center of AМP developed reference model of dairy farms in Ukraine and implementing a series of training and information activities for dairy farms of Ukraine.
IFC, a division of the World Bank Group, is the largest global development institution focused on supporting the private sector in emerging markets. We operate in more than 100 countries, using our capital, expertise and influence to create markets and opportunities in developing countries. In fiscal year 2019, we provided more than $ 19 billion in long-term funding to developing countries, strengthening the capacity of the private sector to overcome poverty and increase overall welfare. Additional Information: www.ifc.org