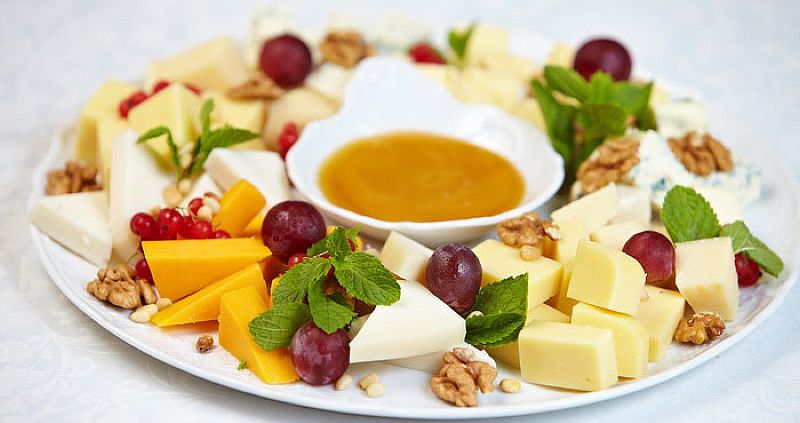 The cheese plate, or the French «plateau de fromage», is gaining popularity in Ukraine, gradually turning into a necessary element of an exquisite festive meal.
A classic cheese plate for a New Year dinner this year will cost an average of UAH300, said OlgaKozak, PhD, lead researcher at the National Scientific Center «Institute of Agricultural Economics».
According to her, now Ukrainian dairy industry provides the opportunity to compose a cheese plate from elite cheeses of domestic production.
The amount of cheese needed for the plate was calculated for 4−6 servings, 100−150 g of each cheese per serving.
For the model plate, five well-known types of elite cheeses of Ukrainian make were selected: soft (Brie), semi-soft (Gouda aged), hard (Maasdam), extra hard (Parmesan) and blue cheese (Roquefort).
At the end of December 2019 the price for 1 kg of the domestic cheeses was as follows: Brie — UAH400−450, Gouda aged — UAH300−350, Maazdam — UAH250−350, Parmesan — UAH400−500, Roquefort — UAH450−500.
The plate with imported cheeses of the same types would be 40−60% more expensive — UAH420−480.
Cheese plate as a new element of gastro culture has just only joined Ukrainian food preferences and has not become widespread yet being limited by both the purchasing power of the population and the predominance of traditional cuisine. However, the number of those who likes it grows. This is confirmed by the data on cheese imports. For 11 months of 2019 there was brought 1.7 times more of this product to Ukraine than in January-November of last year, Olga Kozak summed up.