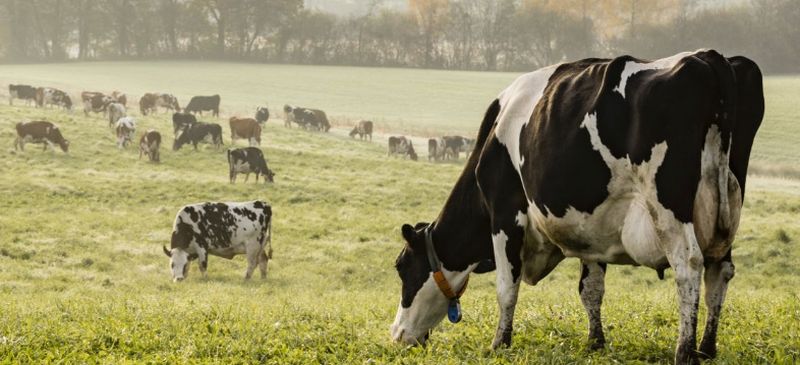 RISK OF HYPOKALCEMIA IS AN IMPORTANT PROBLEM ON DAIRY FARMS
Recent studies have demonstrated that 78 % cows at the beginning of lactation present low blood calcium level and although most of them haven't symptoms of parturient paresis, this state of the body has negative effect on milk yield and fertility of cows. Hypocalcaemia promotes the development of mastitis, displacement abomasum, retained placenta, metritis. To prevent these disorders in cows, use Calcium Plus Bolus by JFARM. This product consists of two parts which are characterized by different: source, time of release and absorption of calcium – such innovation ensures safe and stable level of calcium in the blood.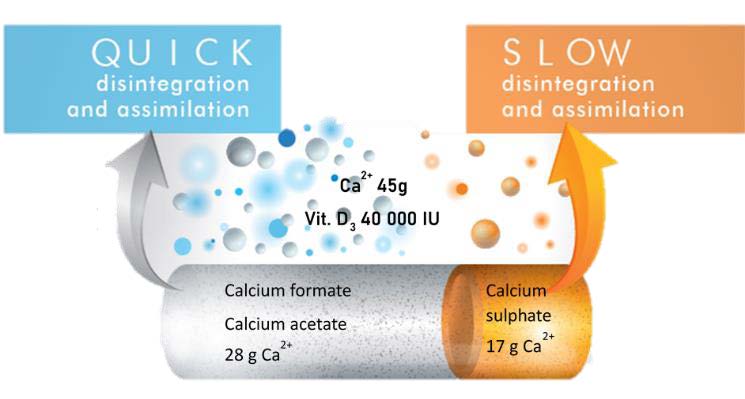 the major part of the bolus is composed of calcium formate and calcium acetate, these organic salts easily dissolve in rumen fluid therefore calcium passes very quickly through the rumen wall by passive transport;
the used calcium sulphate used has anionic character and slightly acidifies the cow's body, this effect stimulate two processes: vitamin D3 transformation to an active form responsible for absorption of calcium in the intestine and hormone-dependent release of calcium from bones;
high vitamin D3 levels increase the active transport of calcium in the intestine and stimulate the immune system.
PROVEN EFFICIENCY ON UNIVERSITY RESEARCH TESTS
Effectiveness of using BOLUS CALCIUM PLUS was confirmed in 2014 by Department of Clinical and Laboratory Diagnostics Institute of Veterinary Pathology and Diagnostics Faculty of Veterinary Medicine SGGW – Warsaw University of Life Sciences.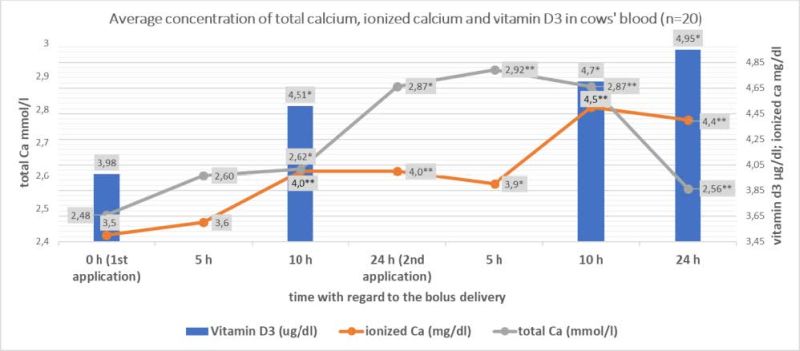 *statistical significance at P ≤ 0,05
** statistical significance at P ≤ 0,01
Release and absorption of calcium – research conclusions
! Quick release and absorption of calcium ions were found. Just after 5 hours of administration of bolus, an increase in total and ionized calcium was demonstrated.
! After repeating the bolus application, the level of ionized calcium increase of nearly 30% compared to the initial value.
! Vitamin D3 concentration in the body after completing preventive treatment with calcium bolus increase of 24.3%.
! The use of boluses provides constant increase in the level of total calcium, ionized and Vit. D3 in the blood up to 24 hours after application.
HOW THE JFARM BOLUS WORKS IN COMPARISON TO COMPETITIVE BOLUS ON MARKET?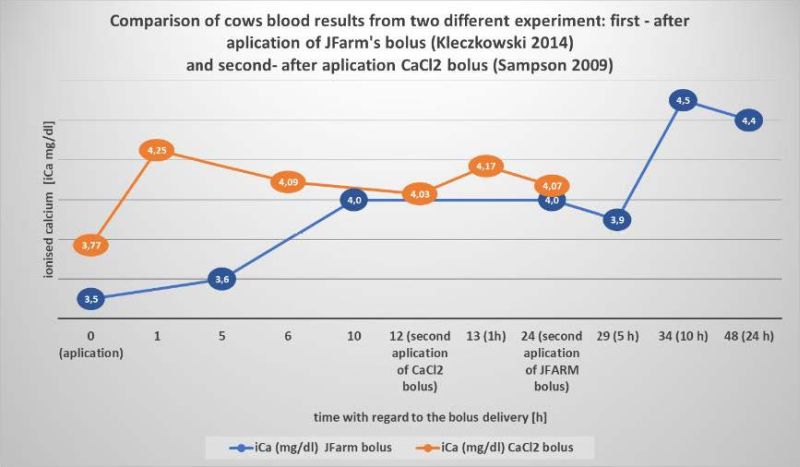 ! The dynamics of calcium in the blood after the application of calcium chloride bolus is similar to that after the use of calcium intravenous infusions. A short increase (first 3 hours) is observed, followed by a rapid decrease in blood calcium concentration.
! The use of JFARM boluses guarantees the maintenance of elevated levels of calcium in the blood for a minimum of 36 hours.
---
JFARM Sp. z o.o. Sp. k., Poland
phone: +48 29 767 87 41, +48 603 999 268
Email: biuro@jfarm.pl
Web site: http://www.jfarm.pl/en/